Our trainings
One goal : give you the keys of the maintenance of your boat(s) to become autonomous.
We provide, to each participant, a personalized training to answer all questions you could have. In the long term, it represent a time and money saving for your rental electric boat company.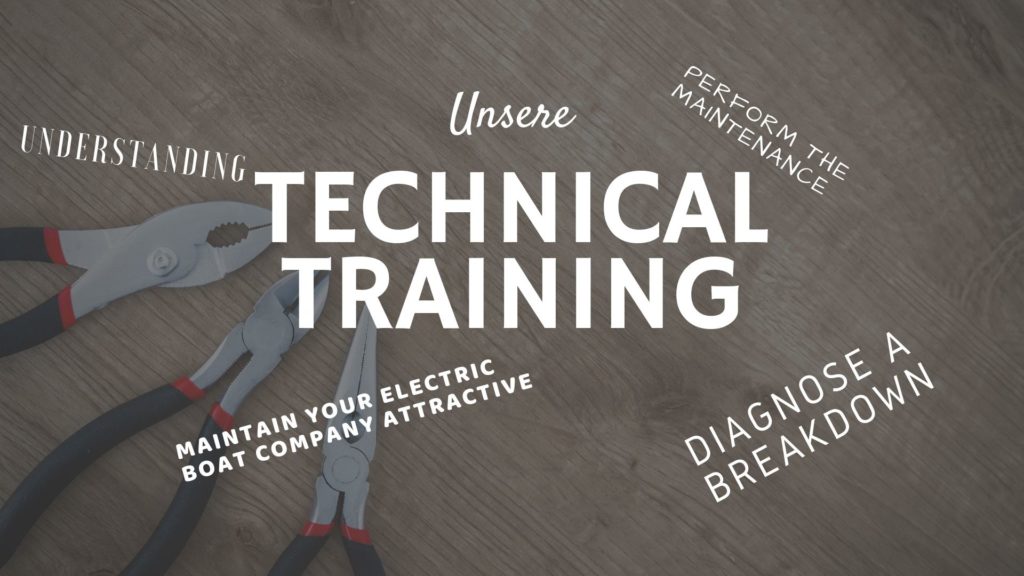 Content of the training :
During this training, you will learn about :
All the spare parts of your electric boat and their function.
Understanding how your electric boat works : electric system, propulsion system, tools…
Diagnose a breakdown on your electric boat in the way to increase your battery life and save money.
Perform the maintenance on your electric boat to prepare for the summer time and prevent from unexpected problems during the season. 
How to maintain your electric boat company attractive for clients in the way to improve their experience.
Informations
Duration of the training : 1 day.
Plance : Within our workshop in Vigneux-de-Bretagne
You will be welcomed with a breakfast (not British but Croissant and Pain au chocolat ! 😉 ) and we will have lunch together to discuss about the problems you encounters.
Title of the training : Technical training
Trainer : Guillaume de Rochambeau
Price : Price : 500€ ex-taxes for 1 participant, 900€ ex-taxes for 2 participants, 1300€ ex-taxes for 3 participants
Duration : 7h
Hours : From 9am to 5pm with one hour lunch break.
Breakfast and lunch for free
Subscribe !
To subscribe, fullfill and send us the following registration form.